Hannalice Official Web Site
Artist Hiroko Hanna's Official Site
Short Movie: Alice in Wonderland(Trailer)2015
Art Book of
"Real Alice World"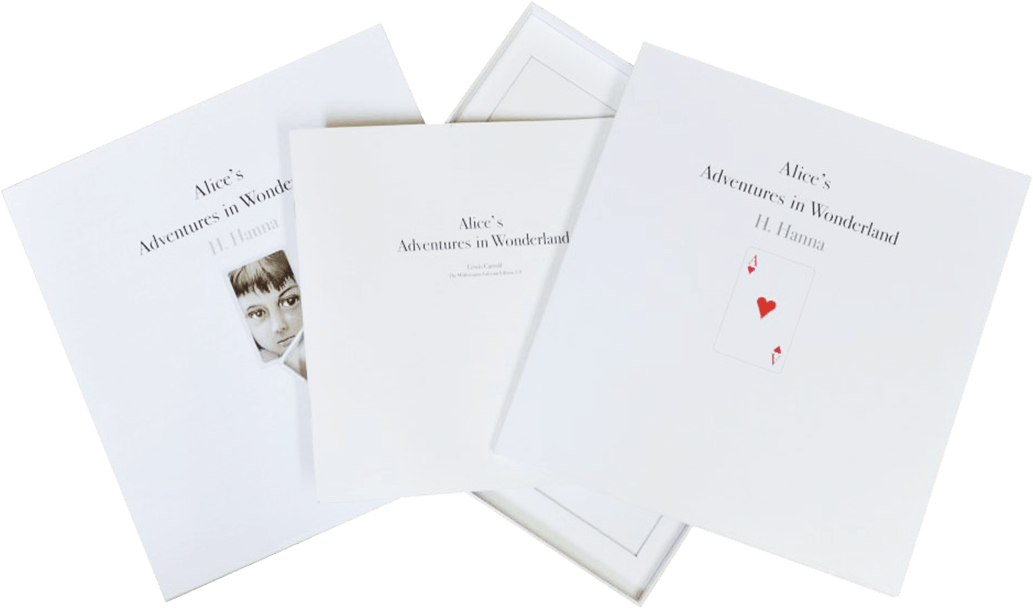 Alice's Adventure in Wonderland is the fantastic story of adventure told about a girl, Alice Pleasance Liddell, by the mathematician Lewis Carroll, and has been loved all over the world and over time.
This art book, drawn by H. Hanna, was inspired by the "real Alice" in a photo taken by Lewis Carroll at that time, and creates another wonderland of her own. The illustrations in the original book of "Alice's Adventure under Ground" were drawn by Lewis Carroll himself.
Alice's Adventures in Wonderland
Author: Lewis Carroll, H. Hanna (Illustration)
Size: 15 × 14.2 × 1.4 inches
Price: ¥ 20,000(Before-taxprice)
Alice Emaki-mono Project
Alice's Picture Scroll Project in Oxford
Hiroko Hanna's artwork for "Alice's Adventures in Wonderland" was printed in Emaki-mono, a picture scroll, in large scales of 0.8m by 20m and 1.3m by 33m, and was displayed for Alice's Day of July 4th, 2015 in Oxford, UK.
Her artwork shows the real Alice Liddell as the heroine of the story.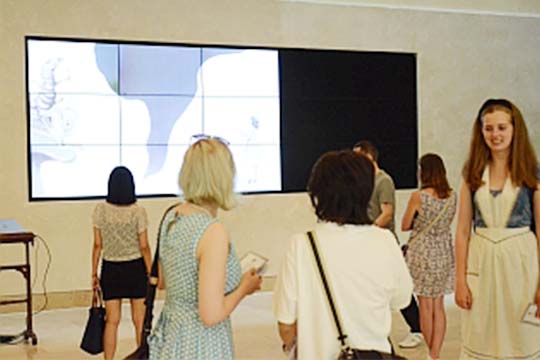 →A new artwork of "A MAD TEA-PARTY" 227cm×182cm, will be exhibited in the 89th annual Exhibition of DOKURITU EXHIBITION, which will be open in October 19, 2022

The 89th Annual Exhibition of DOKURITSU EXHIBITION
October 19-31 at The National Art Center Tokyo
Museum Hours:10:00 to 18:00 (visitors must enter by 17:30)
Last Day: closes at 15:00
Closed: Tuesday
THE NATIONAL ART CENTER,TOKYO
7-22-2 Roppongi Minato-ku Tokyo 106-8558 Japan
TEL:03-5777-8600 (Hello Dial) FAX:03-3405-2531
Tokyo Metro Chiyoda Line Nogizaka Station Direct access from Exit 6

For more details please visit www.dokuritsuten.com

URL
http://www.dokuritsuten.com
→September 27-October 2, 2015
Hiroko Hanna Solo Exhibition at "Hikari Gallery"
7-6-6 Ginza, Chuo-ku, Tokyo, Marugen-Buildings 24 1F
Opened Monday-Friday: 11:00 AM - 7:00 PM, Saturday: 11:00 AM - 4:00 PM
→2013 "Alice's Adventures in Wonderland - Exhibition of HIROKO HANNA-" November 14-17 2013. 11:00am-18:00pm (Open from 14:00 only first day). Yokohama Red Brick Warehouse. Shinko 1-1-1 Yokohama Naka-ku, Kanagawa
→2013 Alice's Shop Oxford sells the book "Alice's Adventures in Wonderland by Lewis Carroll, H. Hanna"